President Donald Trump made a lot of promises when he pushed through tax cuts this year. More and more of those promises are not materializing.
"The amount of offshore cash U.S. corporations have returned home so far this year is just a fraction of what President Donald Trump had promised.
A Morgan Stanley report released Thursday estimates companies brought back from $50 billion to $100 billion in the third quarter — which would bring the total repatriated back to the U.S. to as little as $514 billion, based on previously released figures for the first and second quarters from the Commerce Department. The tax overhaul signed into law by Trump in December gave companies incentives to bring money back to the U.S. by offering a one-time low tax on repatriated profits.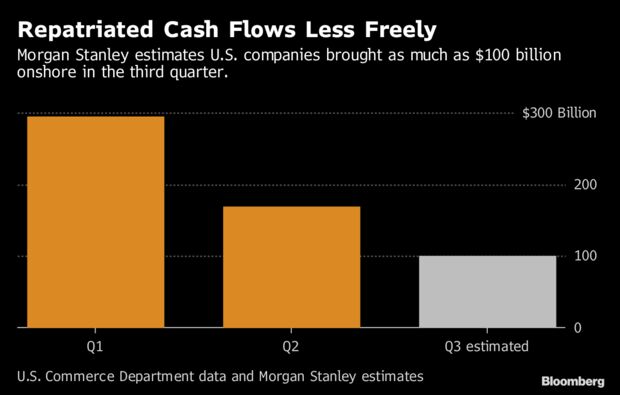 Even though companies are less restricted in moving their offshore profits under the U.S. tax overhaul, corporations, in aggregate, are choosing to keep earnings in their foreign subsidiaries, according to a team of Morgan Stanley analysts led by Todd Castagno.
Trump has said, without specifying his source, that he expects more than $4 trillion to return to the U.S., which will help to create jobs and more investment."
For the rest of the story, visit Bloomberg here.